Where In The World Is 32.42N 117.14W?
by George Edw. Seymour
You are invited to take a visual tour of Point Loma below where you can choose one of the hyperlink topics to learn more about that topic. Enjoy your voyage.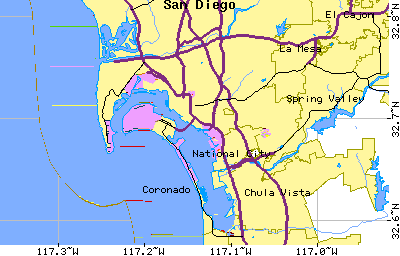 San Diego is located in the most southwestern part of the United States of America. It is this Nation's seventh largest city, and is situated within San Diego County. Census profiles for 18 San Diego Region Cities are available, including the city of San Diego. According to the most recent National census data, as of 2000, San Diego city contains slightly more than 1.2 million people. Additional information about California, San Diego County, and San Diego City's demographic and historic resources is informative.

Or you can visit another of my pages: Virtual San Diego.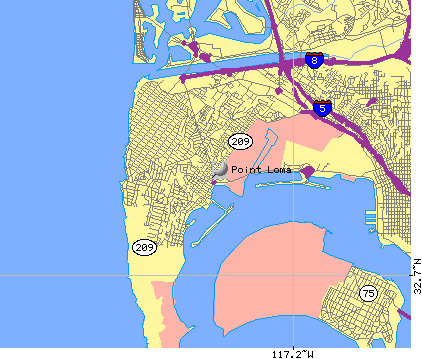 Point Loma is a small community located on the western (ocean) side of San Diego city near the intersection of InterState Highways 5 and 8. Notice that San Diego airport is southwest of Interstate 5, and the Navy base is surrounded by San Diego Bay. Much of Point Loma consists of a peninsula that leads to the famous Point Loma Lighthouse situated at the southern most point. The Point Loma lighthouse is part of the Cabrillo National Monument which honors Juan Rodriguez Cabrillo, who on September 28, 1542 landed at San Diego Bay. That event marked the first time that Europeans set foot on what we now call the west coast of the United States.
This four meter photo provides an unusual view of Point Loma.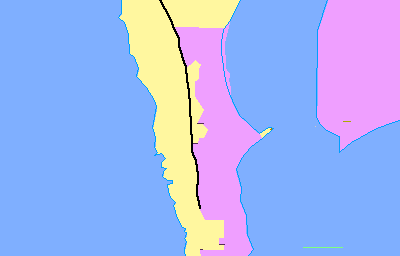 The southern end of Point Loma hosts the famous Point Loma Lighthouse, as well as several important Navy research organizations. The main road that you see on the map running north and south is called Catalina Boulevard (which changes into Cabrillo Memorial Drive). In addition to leading to the Lighthouse, it serves as the highway that brings several thousand employees to and from work each weekday.

Before reaching the Lighthouse you will pass the "Barracks Area" on the left side. A recent excerpt about what scientists did here during "the" War has been posted online, and is titled, Scientists at War: 1940-1945. The pictures are especially worthy of your time.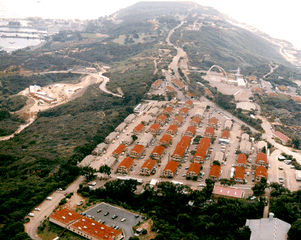 This view of Point Loma looks south toward the Lighthouse. These barracks were built during World War II and now host scientists, engineers, computer specialists, and others who rather like being in them. The insides of these buildings have been remodeled to accommodate technology advances that were unimagined when the buildings were build. And the exact location for the building and office where I work is: 32.42.14.37N and 117.14.46.49W. If you would like additional information about the truly fascinating history of Point Loma and the origins of the research activities here now, as well as San Diego's military history, the following recent books are recommended.
Boslaugh, David L. (1999). When Computers Went to Sea: The Digitization of the United States Navy. In "1942 the U.S. Navy Radio and Sound Laboratory was established at San Diego, California." Although this book has the wider focus of computers at sea, the story herein documents the early and pivotal role that this laboratory (later called the Naval Electronics Laboratory, NEL, and today the Space and Naval Warfare System Center) played in developing the computer industry. Here is one of the more engaging recounts, "It was not at all unusual for an NTDS project officer to have to face down an enraged captain or commander who let him know in no uncertain terms that no dammed computer was going to tell him what to do...." Here is the Introduction
Joyce, Barry A. (1995). A harbor worth defending: A military history of Point Loma. San Diego, CA: Cabrillo Historical Association (619-222-4747). This book is well worth the $16.95 for anyone who has interests in the military historical aspects of Point Loma. For example, few non-military people can imagine the size and power of Navy 16 inch guns. Facing seaward, they can hurl a 2,340 pound shell 30 miles. But this slim volume contains much more including events at the turn of the Century when Fort Rosecrans was an Army base.
Linder, Bruce P. (2001). San Diego's Navy: An Illustrated History, Naval Institute Press, 272 pages. Bruce, is a retired Navy captain, grew up in San Diego, attended the Naval Academy, and eventually commanded the San Diego Naval Training Center during one of three tours of duty in San Diego. About his book, he said that he included over 150 photos and tried hard to concentrate on ones that had not been previously published. Here is one of his pictures of "Destroyer Row" at the 32nd Street Navy Base in the south bay of San Diego.

Nordhoff, Charles. (1993). The light-houses of the United States in 1874. Silverthorne, CO: Vistabooks Publishing. For $6.95 you can learn much about the coastal light house keepers and their way of life during the last century. For example, "The first act of Congress relating to light-houses was passed August 7, 1789." Interestingly, President Washington and Secretary of State Jefferson signed a law three years later to build the Montok Point lighhouse in New York.

Paez, Jaun. (1968). Cabrillo's Log: 1542-1543. San Diego, CA: Cabrillo Historical Association. Imagine a tiny cabin on an early ship as Captain Cabrillo sets for sea on June 27, 1542. The window before his desk is small and he writes slowly in his log using a large candle and quill. Ninety-three days later, on Thursday, September 28th, they "found a very good enclosed port, to which they give the name of San Miguel (San Diego)...and after anchoring they went ashore, where there were people. Of these, three waited, and all the others ran away. To these three they gave some gifts" (p. 6). The picture I took and shown on the right (not in this book) exemplifies what the early ships must have looked like. Click on the picture for a larger view.
This page was revised most recently on: Friday, July 23, 2004.
You may contact me by e-mail.
---

---